Karatsu City   Yobuko squid
Translucent, decadent dish packed with flavor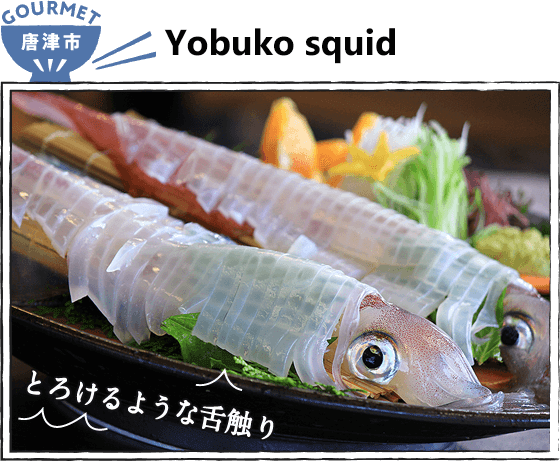 Squid sashimi is succulently transparent, with a melt-in-your-mouth texture and a chewy quality. Packed full of sweetness, you won't be able to keep the smile off your face over its delicious taste. Indulge yourself twice over using the squid arms in tempura or grilled with salt! With four to five different kinds of squid, you can enjoy squid at any time. Everyone is excited to be able to eat squid in season no matter when they go!
Imari City  Imari beef hamburg steak
Original luxurious taste of meat without the additives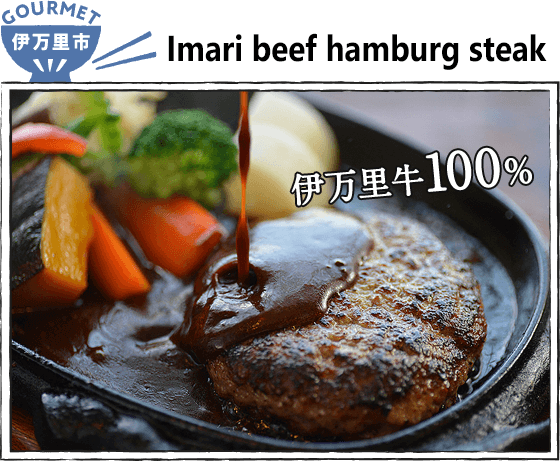 No eggs or milk are used to keep ground meat together, which is mostly made with 100%, grade-4 or higher, choice Imari beef and locally sourced sweet onions. This hamburger steak with the concentrated delicious taste of Imari beef is richly sweet, plump and soft.
Meat lovers should eat this hamburger steak and fully enjoy the original taste of beef!
Takeo City  Champon noodles
Satisfying volume of healthy portions of vegetables in thick soup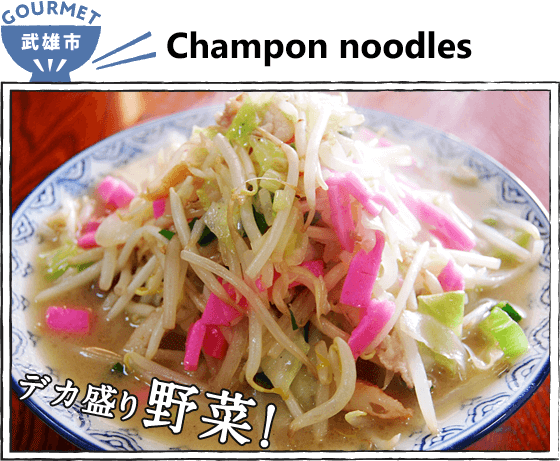 Did you know that champon noodles are Takeo's signature food? Before World War II, Takeo Kitagata champon noodles first saw the light of day with a desire to adequately feed coal miners working in the Kitagata district of Takeo City, which was booming as a result of the coal mining industry, delicious food at a cheap price. What appeared when a heaping helping of vegetables was placed on top of the thick soup was Chomolungma or Everest! The personality of the food culture in the area is reflected in each and every ingredient. A feature of champon noodles in landlocked Takao is that the delicious vegetables grown in the Saga plains are used in place of seafood. Whether you are a vegetable lover or a big eater who also wants to consume vegetables, champon noodles are the perfect dish!
Ureshino City  Ureshino Onsen boiled tofu
Soft, melt-in-your-mouth tofu boiled in Ureshino hot spring water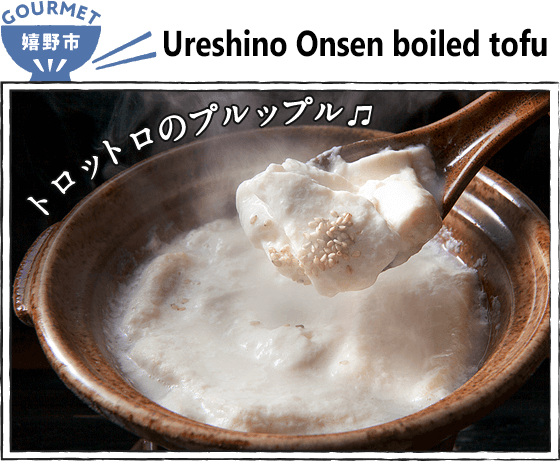 Boiled tofu cooked using the waters of Ureshino Onsen is jiggly, thick and creamy! This thickness is the result of an alkaline component found in the waters of Ureshino Onsen. This tofu is delicious in a dish with meat and vegetables, but travelers are recommended to taste itself together with condiments, such as green onions, bonito flakes and ginger! It is a popular choice for breakfast at Ureshino Onsen and is a gentle flavor for those who have just woken up or have eaten too much the day before.
This tofu is excellent for your skin and allows you to taste the Ureshino Onsen inside your body.
Hot spring boiled tofu sets, which contain tofu, Ureshino Onsen water, condiments, and sauce, are also available for purchase as souvenirs!☆
Arita Town  Aritayaki Gozen (a five-course meal on Arita ware)
Arita ware "treasure box" lunch filled with locally sourced chicken and vegetables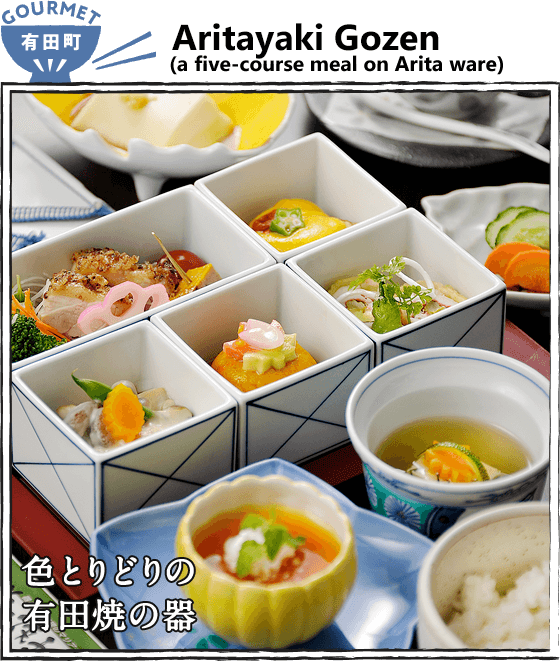 Aritayaki Gozen (a five-course meal on Arita ware) debuted as Arita's new local gourmet food in August 2011. Enjoy five different dishes—grilled, vinegared, boiled, steamed and fried—made with Arita chicken. Colorful Arita ware pieces are used for the dishes. Food using locally grown chickens and vegetables is served on Arita ware pieces arranged in the image of a treasure box. This special five-course meal can be enjoyed more than once—with the eyes for its beautiful arrangement and then with the mouth for its delicious taste!
Sasebo City  Sasebo burger
Extraordinary, locally-produced and locally-consumed, homemade burger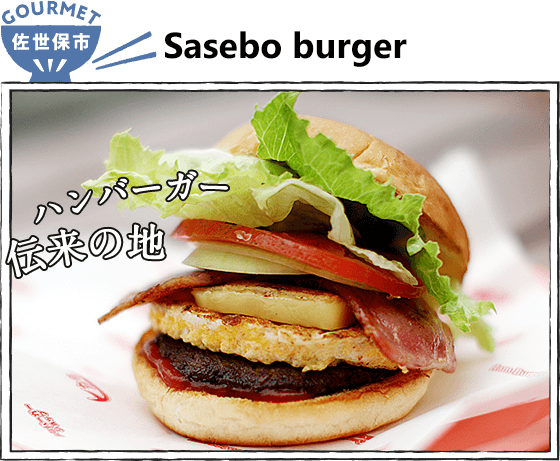 Various aspects of American culture were brought to Sasebo, which had thrived as a base for the former Japanese Navy. The Sasebo burger had its start after the recipe was directly picked up from the US Naval base around 1950. Since then, Sasebo has become known as the site of the original hamburger. Originally, it had been sold to Americans, but has been passed down as a local signature food ever since it has been arranged in "Sasebo style". The Sasebo Burger is known for only using local ingredients and for its commitment to start cooking only after an order has been placed. Size and taste vary from store to store, so enjoy searching for your favorite! The best way to eat this American-sized burger is to open your mouth wide, take a big bite and dig in! If it is hard to eat, slightly flatten it before diving in ♪
Hirado City  Kaisen donburi (seafood rice bowl)
Enjoy authentic, fresh seafood from the waters around the island of Hirado!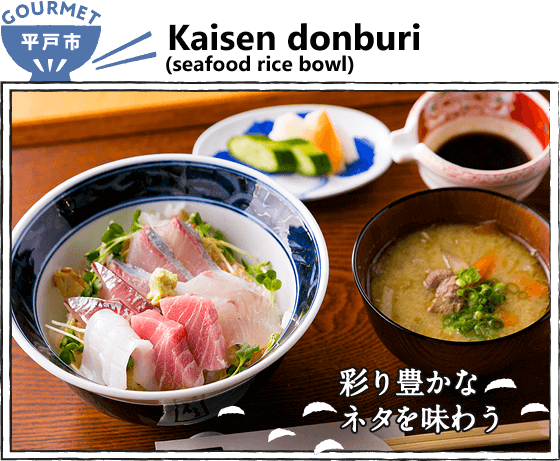 Hirado's kaisen donburi is attractive not only for its price and volume, but also for the taste of the rich, colorful seafood that change according to the season! ☆ Seasonal seafood caught in the waters off of Hirado and the best seafood of the day from local fish markets, such as tuna from Nagasaki Prefecture, are densely arranged on top of rice.
Stuffed seafood from Nagasaki into one bowl, it is a typical Nagasaki lunch!
Hasami Town Hasamiyaki gozen AKARI
(course meal on Hasami ware)
The gourmet food in this porcelain town is a must-taste and must-see!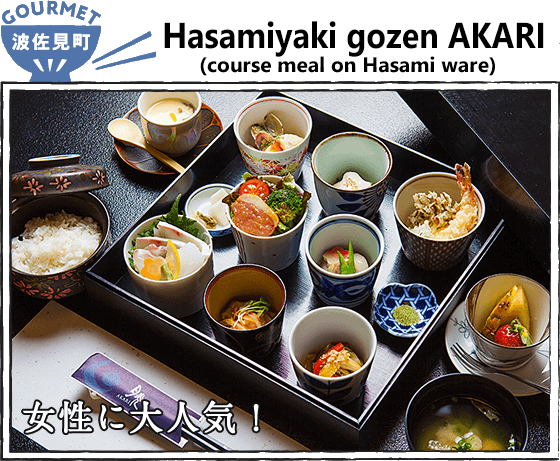 "Hasamiyaki Gozen", which Hasami ware soba choko (cups for soba noodles) are likened to small dishes, is extremely popular with travelers who want to eat a variety of different dishes a little at a time! Porcelain from various kilns in the town is used for the nine soba choko cups, turning this into an exquisite dish in which the charm of the town is condensed. This superb masterpiece allows you to enjoy not only the food itself, but also the pieces on which it is beautifully arranged.